Moving won't be a misery with our Man with a van service
Are you desperate to find a removal service that won't leave you high and dry? The problem with most moves is that they cost a lot of money. Most people cannot afford to keep paying out on removal services, when they are trying to live on a tight budget. That is why we suggest you using our man with a van service. This service is incredible because it is so affordable and so easy and so time effective. Unlike when you use a full removal service, with this man with van service you are guaranteed a quick move that won't take you too much time and energy. We are a professional and reliable and reputable company and we have standards to keep. What we are trying to say is that you can count on us 100% for first class services at all times. You should never expect anything less than the very best of our ability. You can depend on us whenever you need us for man and van services. Over the years, we at Movers Man and Van have moved so many people and we want to help you next, to prove to you that moving can be an easy and enjoyable experience. Just call us now on 020 8746 9674 and you can get a free quote in return. Then, it is up to you to decide what you need.
What are the benefits to using our man with a van? There are so many to name. First of all, it will cost you a lot less than it would to use a general service. So by using our van and man service you are saving money – and plenty of it for that matter. In addition to this, you will save stacks of time too. That is because this is a much more down to earth move and we don't plan or pack for you. You do that for yourself. Quite literally, we come to your home, pick up your boxes and load them into the van, and then we unload them at the other end, job done. It's really simple and really effective. You are bound to be more than satisfied. Another advantage to using this service is that you will be working with true professionals. It might be a service that is affordable but that does not mean that you will be getting a less quality service. You will still receive a high quality removal service. The drivers are all qualified and hard working individuals. You can trust them 100% for excellent services. They offer all the help you need.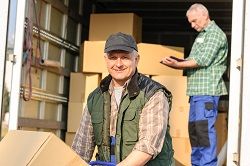 Choose no other company than Movers Man and Van if you are searching for great man and a van services. Our man and van service is definitely one of the best services available to you if you are living on a tight budget. More and more people are tightening their purse strings these days, and we don't want to be a service you can no longer afford. That is why we offer the great man and a van service. It is affordable and easy and it definitely won't bleed you dry. You will be more than happy with this service, we are sure. All of our clients love this service because it makes moving so much less chaotic and costly for that matter. If you want to know more, don't be afraid to simply pick up the phone and call us now on 020 8746 9674. You will love the services we offer to you and we can also give you a free man with a van quote over the phone.
Company name:
Movers Man and Van
Telephone:
020 8746 9674
Opening Hours:
Monday to Sunday, 07:00-00:00
Street address:
26 York Street
Postal code:
W1U 6PZ
City:
London
Country:
United Kingdom
Latitude:
51.5207830
Longitude:
-0.1586090
E-mail:
office@moversmanandvan.co.uk
Web:
http://moversmanandvan.co.uk/
Description:
We offer a brilliant range of removal services you can choose from - home removals, office moving, removal vans hire across all areas of London.
© Copyiright 2013 © Movers Man and Van